Sick of hiding your smile?
Ceramic or Porcelain Veneers give you whiter, straighter, perfectly shaped teeth – usually in just a couple of visits. Veneers will make the teeth right shape and colour, to give you the smile you have been looking for.
10 New Veneers for just $333 a month?
Yes, we have a fixed price system for veneers based on a special volume discount we have negotiated with our laboratory. Up to 10 veneers on an arch for $9995. So if you are having an upper jaw done, you can have 10 veneers, and they are just $999 each.
We will see you for your initial free consultation, to discuss with you what you need and want, and after that visit we can quote you exactly based on your needs. For instance, if you only need a couple of veneers, then the price per veneer will be quoted separately.
So 10 teeth for $9995 – with a 20% deposit (ie $1995) and pay only $333 a month for 24 months. No credit check, no interest. Just a $39 set up fee, and 88c bank fee for each payment. If you decide to pay it off early, there are no extra fees or early termination fees. If you want to pay the regular payments by credit card, a 2% fee applies to that (but NOT to the deposit).
Well, sort of. You will be given the option to prepay and save 10%. So $9995 then becomes $8995 – which means $895 per tooth. you can pay by cash, bank cheque, Visa, Mastercard, Amex or bank transfer. You just need to pay with clear funds before your first treatment appointment to take up this offer. But you can still pay by credit card and earn points-paying by cash is not the business we are in. We are quality, doing things right, at the best possible price, with the best possible technology.
A veneer is a thin porcelain shell that we bond to the front of a tooth to give it a new shape and colour. They don't cover your tooth entirely. The edges overlap the side and tip of each tooth in order to attach permanently to the tooth structure. Veneers are an aesthetic solution which is designed to correct shape and colour.
If you want to check out our dentist's cosmetic treatments, then click
HERE
to see our patient gallery.
Dramatically Improved Look
Veneers are ideal for those aesthetic concerns like crooked teeth, gaps or staining. Our Veneers are handcrafted by highly trained dental ceramists right here in Melbourne – and customised according to your preferences, meaning you can ge tthe exact shade of white or natural look that you are after. After all, every smile is different, the lips, the teeth, and how wide we smile. So we help you to plan the shape and colour of each veneer – and get a result that will really have you smiling.
For some people that means placing as few as six veneers on their upper front teeth, but others need up to 10. Most people need upper veneers, but some may also need lower ones, or only lower ones, depending on our smile line.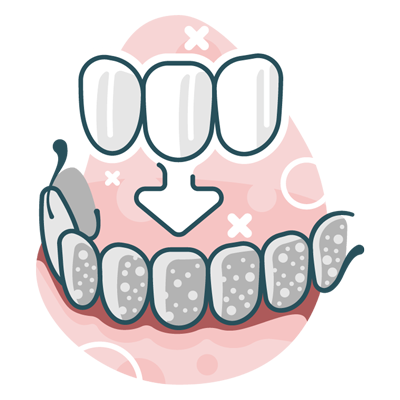 Before we start your ceramic veneer treatment, we take photos and impressions, so we can show you how the new veneers will look in your own mouth. It's not just a computer generated picture. You get to see how they will look – in your own mouth – before we lift a drill.
And once you are happy, we can then move ahead with booking your appointments.
How does it work?
The treatment usually takes two separate visits. First we will prep appropriate teeth so that a veneer can fit over each one in your personal smile zone. Then we'll take a 3D Scanned image, and also some impressions, for our lab to use as the ceramists create the final veneer design. You will leave this visit with a temporary covering over your teeth to protect them while your veneers are being made. The whole visit is 1-2 hours.
We do ask you to visit our ceramist at the lab (inner northern suburbs) after this visit, so they can fine tune your colour and design wishes. About 2 weeks later, we will see you again to have the permanent ceramic veneers bonded to your teeth. This visit is again 1-2 hours, and for your comfort we may numb your gums. We will show you the veneers, and ensure you are 100% happy with the shape and colour, and then permanently bond them for you.
We usually check up on your new veneers in a quick visit a few weeks later to ensure all is going well. Some people may need a Night Guard (depending on their bite – or the way their top and bottom teeth fit together). So we will also check on how this is going for you.
Is that all that happens?
Well, for many people, yes. But for others, we need to ensure that the veneers are going onto stable, healthy teeth. You dont want to invest in veneers, that are on top of decay or teeth that will cause problems in a few years. We believe in veneers being for a long time – not a good time – so we use a Melbourne based laboratory to construct your veneers – tailored to your own smile (its not computer generated like at some practices).
Also, depending on the number of veneers, for instance if you are only placing veneers on the top 2 or 4 front teeth, we may suggest Zoom! Teeth Whitening. so that your new veneers can be the best colour possible for the long term. Your side or lower teeth will then match your new ceramic veneers.
The dental lab we use for your veneers design and manufacture is based right here in Melbourne.   You may be asked to wear a night guard to help protect your veneers form unintentional nighttime grinding. We recommend ongoing maintenance – including six-month checkups – as you would with any fixed restoration. Daily brushing and flossing are essential. If you're someone who tends to clench your teeth throughout the day or while you sleep, we may need to fit you with a splint or night guard to protect the porcelain against fractures.
START YOUR SMILE MAKEOVER TODAY
Find out if dental veneers Forest Hill are right for you. Contact us to schedule.
CONTACT US

Cheapest Ceramic Veneers in Melbourne –  Forest Hill VIC | 03 7023 0066
// //