All-on-Four & All-on-6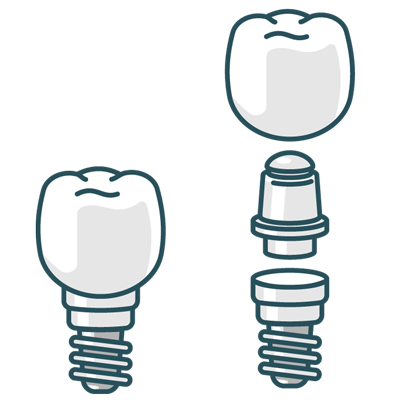 Having trouble with a loose plate or denture? Finding it hard eating on your full or partial denture?
The groundbreaking convenience of "All-On-Four" could be an option for you.
Using the latest technology to scan your jaw, and find the ideal locations to stabilise your denture with 4 to 6 titanium dental implants, is now available at Brentford Cosmetic Dental.
Dr Adam Mattsson and our team is able to use several different methods to secure the denture to implants, from a fixed option, to a clip in/out option, or a hybrid denture bar on implants solution.
How Much Does It Cost?
The pricing varies from patient to patient, depending on the individual situation. So we offer a free consultation in order to be able to find out the exact needs, and therefore give you a quote that we can guarantee. And our reception team will help you with our amazing payment options – which could allow you to get started right away, with no interest, no credit check, and reasonable weekly, fortnightly or monthly payments, for up to 2 years. Or you could save a bundle, with our option to save big when you pay at commencement of your treatment.
Finding The Best Solution For You
Our process is to take you through the options, first checking on your bone levels, and the strength of the bone to support the implants that will hold your new prosthesis in place.
We like to say your new "All on Four″ or "All on 6″ solution is here for a long time, not just a good time, so our planning is thorough – and our approach aims to give you the best possible long term outcomes.
While you might not always be able to have the fixed denture on the implants the same day as your implants are placed, we will ensure the results will be done as early as is possible for your case – and that the solution has the best possible chance of outlasting you. We know that nobody LIKES being without their teeth – so we always have a plan for how you will be able to go to work, or carry on your normal social life, during the treatment.
Individual Service, Custom Treatment & Personalised Delivery
We don't hold seminars, with eager receptionists trying to sell you a quick fix. We know there are other operators out there that do. But we are different. Individual service, custom treatment, and personalised delivery. And we can guarantee you our prices are more fair than the "implant factory" practices offering quick fixes. And we are here to support you at all times through the process, with the same person looking after you all the way.
We put in the research, to ensure you a great, natural looking outcome, for the long term. With the option to take advantage of our amazing payment options – which are super flexible, and don't require a credit check (and definitely don't need pay slips and the like). We have patients who pay the regular payments from their fortnightly pension even!
Yes, once you are happy with the solution we suggest, you will have the option to pre-pay and save a bundle – or take advantage of the payment plans (with no interest, and no credit check).
Do you have a Partial Denture?
If your partial denture is bothering you, then we can look at options to secure your partial denture or a new prosthesis on 2 or more dental implants. Its an option which could help retain some of your natural teeth, but to fill the gaps where you may have lost teeth due to an accident or dental trauma.
There are always options in dentistry – and we pride ourselves on giving you the choice to plan your treatment, and how to pay for it – with one of our amazing payment options.
So if you have a partial denture, ask us today about how we can help you discover your options, with a free consultation. The answers may surprise you.
What kind of implants do we use?
The Australian TGA has approved a number of implant systems for use in Australia. So not all implants available overseas are available here. Why does that matter? Well each implant brand (and even some different implants within a brand system) need a specific tool kit. So if you get a dental implant in another country, it may not be able to be managed back in Australia if something goes wrong, or even for ongoing maintenance.
So we use only TGA approved implants, from brands such as Straumann, Neodent, BioHorizons, Neoss, Astra and Osstem.  We can also assist with the restorative phase of Nobel Biocare.
We have implants in all sizes for all different applications – depending on the amount of bone that you have, location of sinus and nerves. Ones that allow a fixed solution, or a removable clip in/clip out solution.
We don't use Zygoma implants as Zygomatic Implants have a high risk for interfering in the nervous system, the sinus system (and causing ongoing sinusitis), as well as moving into the ocular (eye) system causing vision disturbances. Similarly Pterygoid Implants are seldom used in Australia, because of the risks associated. Basal implants are touted as being "smooth and don't have the same issues as normal implants" however this clearly is not supported by scientific research. Beware of such claims of these older style, inferior treatment options that are often promoted overseas. Our TGA and Dental Association have recommendations and system in place for a reason – to care for your health.
Improved Appearance
Natural Looking Teeth
Easy to Maintain and Clean
Eat with Confidence Again
Flexible Treatment Options
Managed by the Same Friendly Team
To give you an idea of how our payment options work:
A hybrid upper solution may be say around $14 500.
Prepay and you could save $1500. Therefore, you pay just $13 000.
Or put down $3000 deposit, and just $479 a month for 2 years.
These great payment options are available for all treatment over $1000 – not just for All on Four implant dentures!
What makes All-on-Four implants a good solution?

This type of treatment offers greater stability and flexibility, and often may allows for a shorter time between implant placement, and fitting of the prosthesis than other dental implants. The result is that it offers a strong natural bite, while improving your smile and confidence.
Who is a good candidate?
We will assess your teeth, bone and gums to find out if its right for you. Some people may need to have some additional treatment to treat their gums prior to having dental implants, to ensure that all periodontal infection is removed (as it will affect an implant, as it would a normal tooth). We are very open, honest and up front about this. If you lack the bone density required for
traditional implants
, this may offer you a better solution as it spreads the "load" of the pressure of the bite – however we will study this closely before we will present All on Four as an option for you.
Are there any risks involved with this treatment?

As with any dental treatment or surgery, the risk for complications is always possible, though we take every precaution to ensure a safe and effective experience. You'll also need to refrain from smoking as that can affect the healing process, and to avoid certain foods and drinks for a while. But once everything has healed, you will be "back to normal". As with any major surgical procedure, you may wish to get a second opinion from a qualified specialist – we can provide a referral if you would like.
Learn More Today
If you're wondering if you're a candidate for an advanced, amazing dental solution like All-on-Four implants, we're here for you. Contact our team today to schedule an appointment and discuss your options. Want to find out more? We offer a FREE CONSULTATION and FREE OPG XRAY to find out if Dental Implants could be an option for you. Select the FREE IMPLANT CONSULT option when you book online.
We can't wait to welcome you into the practice.

All-on-Four & All-on-6 Forest Hill VIC | 03 7023 0066