Dentures in Forest Hill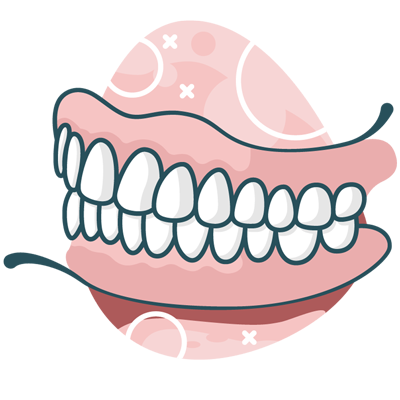 Do you need to replace a missing tooth or teeth? Whether you have a single tooth or all of your teeth need to be restored, dentures are the most cost-effective option. Even if you're considering dental implants later on, dentures offer an interim solution until a permanent treatment is accessible.
Who Wears Dentures?
Are you someone with a genetic or medical condition that is more susceptible to tooth decay? Have you experienced severe damage to your teeth, making them non-restorable? Dentures provide efficient and affordable solutions for replacing multiple teeth at one time.
A denture can be your long-term restorative choice or a temporary answer while you're preparing for implants in the future. The decision is a personal one and we'll be here to guide you through the decision-making process.
Today's technological resources allow us to create custom dentures that look and feel as natural as possible. With a variety of shades to choose from, you can customise your prosthesis to look realistic, rather than fake.
Adapting to your new "plate" does require a bit of time and practice. We'll guide you through the process to show you how to wear your denture comfortably each day. Or if you like, we can use dental implants to permanently anchor your denture so that it doesn't slip or drop while you're eating.
Just like your natural teeth, your new set of dentures requires a daily hygiene routine too. We'll provide you with a care pack, instruction sheet and several product samples to try as you determine what works best for your lifestyle. The most important thing to remember is to brush your denture regularly, soak them overnight in a cleansing solution (with the appropriate type of product) and to keep it as hygienic as possible.
We offer three types of dentures to choose from.
Partial Dentures – A partial denture replaces several teeth at a time. The arch-shaped base conforms around your existing teeth, preventing any unnecessary dental extractions. Partials are more streamlined in shape, as they don't cover the full roof of your mouth. In some cases, teeth can be added to them later, should you lose a tooth in the future.
Full Dentures – Full "plates" replace all your upper or lower teeth in a single appliance. It rests directly against your gum tissues, creating a suction to help hold it in place. If you have any existing teeth in that arch, they will need to be extracted first.
Implant Supported – Dental implants can be placed at strategic points in your jaw, providing a secure base for the denture to attach itself to. In most situations, a full-arch denture may only need 4-6 implants in total. An implant denture can be one that's stabilised (removable) or permanently attached in place (only the dentist can remove it).
Which One is Right for Me?
The type of denture you choose will depend on how many teeth are missing, the number of healthy teeth you're able to retain and what future goals you have for your smile. We'll discuss the best options with you and make recommendations based on what's appropriate for your individual situation.
For custom dentures Forest Hill, request your consultation today at Brentford Cosmetic Dental!

Dentures Forest Hill VIC | 03 7023 0066