Teeth Whitening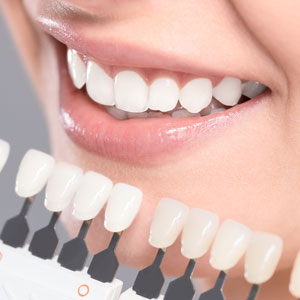 We offer a premium whitening service that gives you brighter teeth in as quickly as one hour.
ZOOM! Whitening is a state-of-the-art professional whitening system that safely lifts deep stains from your enamel (including natural discoloration). By having your treatment
overseen by a dentist
, you can protect your gums and teeth, see brighter results and minimise potential sensitivity.
Perfect on its Own
With ZOOM! Whitening, you can enhance your best accessory without extra dental treatments. All it takes is one visit to our office to complete. You can have a brighter, vibrant, healthier-looking smile before the weekend is here. That way you can look your best before a last-minute job interview, important event or trip out of town.
Whitening is an excellent option for our patients considering smile makeovers. If you have healthy and relatively straight teeth, ZOOM! whitening omits the need for additional procedures such as bonding, braces or veneers. It's the ideal stand-alone smile experience.
If you're considering a teeth bleaching system, there are a few things to do first. Such as having a dentist make sure your teeth and gums are healthy enough to use a whitening product.
Additionally, plan to have your teeth cleaned before your whitening session. Any tartar should be removed and stain polished away prior to applying a bleaching agent. That way the results don't look splotchy or leave discoloured lines across your smile.
Always use your whitening products as advised. Excessive teeth bleaching can lead to severe sensitivity or soft tissue burns if products are not used properly.
Are you planning to update any existing restorations? Get a new crown, implant or set of veneers? If so, talk to our dentist about ZOOM! Whitening before the treatment starts. Since restorations are made of ceramic, they don't change colour like natural teeth. It's best to have your other teeth as white as possible, so that the permanent ceramic tooth can be made to match the rest of your smile!
ZOOM! Whitening only takes about an hour to complete. We'll carefully protect your gumlines to prevent any irritation during the process. The whitening agent is applied to each tooth, then activated using a state-of-the-art lighting system. We'll rinse away and re-apply the gel as needed, until we see the desired results.
As part of your whitening experience, we'll include a home care kit that allows you to maintain the whiteness you achieve during your ZOOM! session. For best results, consider topping off for a few days after each checkup. People who drink dark liquids like coffee, tea or red wine frequently may need to touch up more frequently. When you run low on gel, just drop by our office to purchase a refill.
If you tend to have sensitive teeth, please let us know ahead of time. We'll work with you to formulate a whitening plan that brightens your smile without unnecessary irritation.
Whitening isn't for everyone. If you're pregnant, breastfeeding, taking certain medications or under the age of 18, it's prohibited. Issues such as gum disease or tooth decay ought to be addressed first, to prevent further complications.
Help Your Smile Look its Best
For ZOOM! Teeth Whitening Forest Hill, request a consultation today.

Teeth Whitening Forest Hill VIC | 03 7023 0066