General Dentistry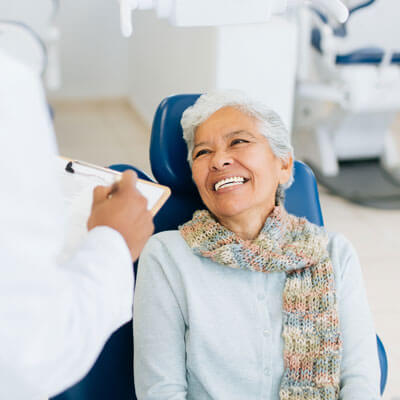 Our family-friendly practice offers gentle oral health services for all ages. Whether you're 7 or 97, our commitment to keep your smile healthy is one that lasts a lifetime. By facilitating quality care under one roof, we make it simple for you to access the dental therapies you need in a convenient and affordable manner.
Checkups and Cleanings – When it comes to your smile, prevention is key. Routine cleans and oral cancer screenings protect your health. During your six-monthly visits, we'll perform a thorough examination of your teeth and gums to screen for any changes that have occurred since your last visit.
Wisdom Tooth Removal – Depending on the individual, wisdom teeth usually erupt sometime in your teens or twenties. It's not uncommon to see them completely developed closer to 30 years of age. Experiencing pain or pressure from impacted wisdom teeth? Book a consultation to find out how we can help.
Tooth Extractions – When a tooth is severely broken down or unable to be saved, an extraction may be the next best step. By removing your tooth, we can address issues like pain, infection and potential damage to adjacent teeth. Emergency and therapeutic tooth removal can get you out of pain and on the path to recovery.
Sleep Dentistry – Sedation dentistry options keep you comfortable and ease anxiety. Both types of sleep dentistry that we use are easy to administer and fast acting. Although you'll be able to maintain consciousness throughout the duration of your visit, the effective pain relief makes it so that you feel less anxious or concerned about what's going on around you. Enjoy a relaxing care experience, no matter what your treatment needs may be.
Root Canal Treatments – Endodontic therapy prevents unnecessary dental extractions and preserves your natural teeth for as long as possible. Getting a root canal is safe and effective. The modern materials that we use are extremely safe and recommended by dentists worldwide.
To ensure a gentle and effective procedure, we generally phase the endodontic treatment over three appointments, each lasting about 30-40 minutes. At the first visit we numb the tooth and remove the nerve. Sedation is available if you prefer. You'll return in another two and four weeks, respectively, to complete the additional phases of treatment.
Dentures and Partials – Affordably and efficiently replace all your missing teeth at one time. Whether you have a single tooth or all of your teeth need to be restored, dentures are the most cost-effective option. Even if you're considering dental implants later on, dentures offer an interim solution until a permanent treatment is accessible.
Gum Disease Therapy – Periodontal disease causes problems like tooth mobility, halitosis and tooth loss. Through early intervention, we can provide therapeutic gum disease treatments that help preserve your teeth for as long as possible.
Kid's Dentistry – Your child's oral health and the way they view dental care begins from an extremely young age. Bringing your child to the dentist at a young age helps to set them up for a good, comfortable experience (as opposed to waiting until they're in pain). As a result, children who receive preventative dental care from a young age are more likely to willingly visit a dentist in the future. It's best to bring them in for a checkup before they start school and well before they're in pain. Schedule their first visit with us!
Emergency Dental Care – Our top priority is to alleviate your discomfort. When you're finally out of pain, we can discuss the next best steps to take, be it a filling, extraction or something else.
Sleep Apnoea and Snoring Devices – If your dentist thinks you may benefit from this a sleep apnoea or snoring device, we will take an impression of your upper and lower teeth and send it to the laboratory. The lab will then make a sleep device that will fit you, so you can wear it comfortably at night and breathe easier while you sleep.
Sports Mouthguards – If you or your child engages in contact sports, it's important to safeguard your smile with a sports mouthguard. These dental devices can be used by kids, teens, and adults alike, who participate in any sport where there's a chance of falling, being hit, being bumped into, or having any sort of high-impact activity.
Book Your Visit Today
Our Family and General Dentistry Forest Hill provider puts you first. Request an appointment.

General Dentistry Forest Hill VIC | 03 7023 0066