Checkups and Cleans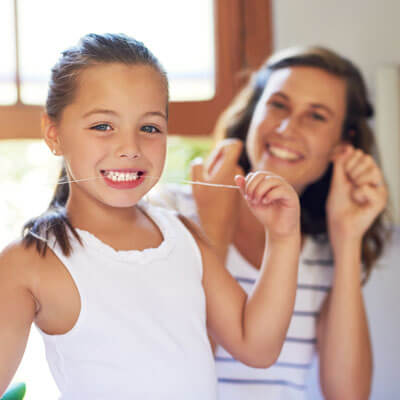 Routine check-ups are an integral part of maintaining good oral health. During your six-monthly visits, we'll perform a thorough examination of your teeth and gums to screen for any changes that have occurred since your last visit. That way issues can be caught early, before they develop into something more complex or painful.
Six month cleans remove buildup that accumulates between appointments, improving your oral hygiene, and freshening your breath. We'll monitor tartar levels and screen for early signs of gum disease, so that infections can be addressed while they're still reversible. When caught at the earliest stage, gingivitis can be managed before it evolves into gum and bone loss.
The typical checkup appointment usually lasts between 40-50 minutes. For younger patients, the visit may be a bit shorter.
We also will give you advice on any areas that may help – like showing you if an electric brush would help, using interdental cleaners like Pixters or Floss, and other things that will help you on your journey to a healthy mouth and teeth.
Keep Your Teeth For Life
At Brentford Cosmetic Dental, we want patients to keep their teeth for life! We do that by encouraging patients to stay on top of their regular checkups and cleans every six months. In fact, the US, UK and Australian Dental Boards research supports six-monthly visits to the dentist as a way to promote optimal oral health and overall health, as the two are connected!
As we know sometimes cost is an issue, we're proud to offer patients a special offer who want to visit us for an appointment. For just $195, patients can get a comprehensive exam, X-rays, cleaning and fluoride treatment.
Oral Cancer Screenings
Your dentist and hygienist are the people most likely to help discover a condition like oral cancer. This dangerous and deadly disease can be a challenge to diagnose on your own. With regular dental screenings, we can identify pre-cancerous tissues or early risk factors.
Oral cancer screenings are a complimentary part of every check and clean visit, whether you're a new patient or have been seeing us for years. By evaluating your oral tissues every six months, we can identify the early warning signs. Your health and family are counting on it.
The Australian Dental Association (as well at the UK and USA experts) recommends booking checkups every six months to catch oral health concerns at the earliest stages of development. By maintaining a preventative care routine at intermittent stages, you can also take steps to reduce the costs of dental health needs in the future. Many health funds support this strategy, offering to cover check and cleans twice a year for their members, because they know it reduces their dental extras claims overall.
We provide checkups and cleans at a flat $195 fee (including any X-rays that are needed). The fixed cost option allows you to access high quality care without the "what ifs" of surprise dental bills.
Digital X-rays are used intermittently to evaluate areas that we can't "see" during a visual exam. Such as bone levels, cavities between teeth and abscesses. Our office incorporates digital technology that's safe for patients and improves the efficiency of your exam. Images are shared with you during your checkup, so that you can co-plan your care alongside of our dental team. They also are kept in your history, so we can chart your progress.
Depending on your cavity risk and dental history, diagnostic X-rays are usually taken about once per year. Full-mouth (or OPG) xrays are taken every couple of years – or when issues arise such as during wisdom tooth consultations or while planning for major treatments like full mouth rehabilitation.
Our up-front fees are simple and easy to understand. With capped pricing, you won't have to worry because your appointment won't cost a cent more than we quote you. Known cost options make preventative care predictable and accessible from visit to visit. The fixed price check and clean includes dental items 011, 012, 022, 071, 072, 114, 121. These are the normal services undertaken at every 6 month visit.
We recommend brushing your teeth twice per day and flossing once daily. If there are areas that require extra attention between checkups, we'll discuss modifying your oral hygiene plan to clean those areas more effectively. Investing in a powered toothbrush or water flosser can make your daily hygiene routine more effective. We will help you understand if these may be helpful to you, and how to use them. We also stock a variety of sizes of Pixters and floss to help clean in between your teeth, or to help keep your dental implants in tip top condition.
Adding a professional fluoride application to your checkup appointment can remineralise weak enamel, making it resistant to tooth decay altogether.
Teeth Cleaning Has Never Been so Easy or Relaxing
If you dislike getting your teeth cleaned with instruments that make that dreaded scraping sound, you'll be happy to know that we offer an incredibly gentle way to clean teeth. Guided Biofilm Therapy is a painless teeth cleaning treatment that uses the AIRFLOW® Prophylaxis Master system to comfortably clean your teeth. With AIRFLOW teeth cleaning?treatment, a controlled stream of warm air, water and very fine powder is projected onto the teeth.
This powder is able to remove food bits, plaque and even some calculus. It also can effectively remove stains caused by coffee, red wine and smoking. The high-pressure air stream and warm water clean your teeth much more efficiently and comfortably than ?traditional l?instruments can
Since the water in the AIRFLOW®?Prophylaxis Master?heats to 40 degrees, you'll enjoy a comfortable dental spa-like experience!
And with Brentford Cosmetic Dental, the latest technology is available at no extra charge, for all our patients.
Click here to learn more about gently cleaning with EMS prophy master!
Are You Due for a Checkup?
Book your dental checkup and cleans Forest Hill with Brentford Cosmetic Dental every six months. If ou are unsure when you are due, just give us a call and we will help you out.

Checkups and Cleans Forest Hill VIC | 03 7023 0066