Electric Toothbrushes
If you were ever in doubt about the effectiveness of an electric brush, just ask "Rob The Dentist" who was in the 2012 ad campaigns for electric brushes.
But SO MUCH has changed since then.
Instead of being a simple brush that just polishes the teeth, they now work out how much you are pressing, is it too much, and let you know. And they help ensure you are brushing for the world wide recommended 2 minutes, twice a day. Also new brush types came along to help with specific issues.
But not happy with these advances, Oral B and Philips have come up with very hand brushing apps – which can help you to work out where you are missing, how to improve, and giving you ratings and tips.
So with this extra help at home, you should have less decay, and less painful dental visits. And that's something we at Brentford Cosmetic Dental are really passionate about. Helping you with your home care, to protect your investment in your teeth and gum health, so we see you when you are smiling.
We offer a selected range of electric toothbrushes which you can pick up form our reception in Forest Hill, in the eastern suburbs of Melbourne. Just a few minutes from Eastland (Ringwood) or from Kmart (Burwood), we are here to help with good value dental accessories, as well as our renowned quality dental solutions for cosmetic and general dentistry.
Get advice from a real dentist on which brush you should use. Not from a department store.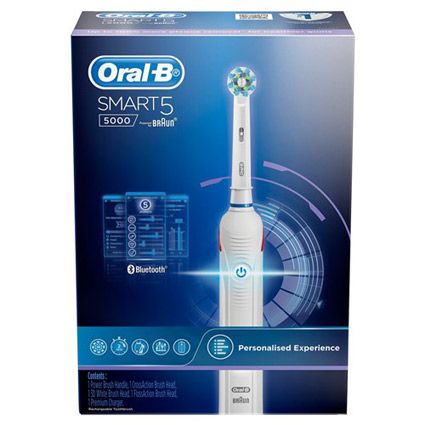 Oral B Series 5 / 5000
$179.00
The Oral-B Smart 5 (also called the 5000) really is a smart electric toothbrush. Only 20% of us brush for the correct amount of time – the build in timer helps you to reach the full 2 minutes we should be brushing for.
It seamlessly connects with the free Oral-B app on your phone, and can help you with realtime feedback to help you brush better. And brushing better, means less painful dental issues.
Oral-B's unique rotating head helps remove up to 100% more plaque than a standard manual toothbrush. It also gently massages to help with healthier gums and warns you if you are pressing too hard, and its motion helps whiten your teeth from those surface stains. Other brush heads can assist with greater whitening power too. Or with sensitive teeth, choose the Sensitive Clean heads – or one of the other tailored solutions like Cross Action, 3D White, Precision Clean, Floss Action, Tri Zone and Gum Care.
Oral-B Smart 5, 5000 electric rechargeable toothbrush sits neatly in a small footprint on your bathroom cabinet. And comes with a handy travel case. The Lithium-ION battery gives you up to 2 weeks of use on a single charge.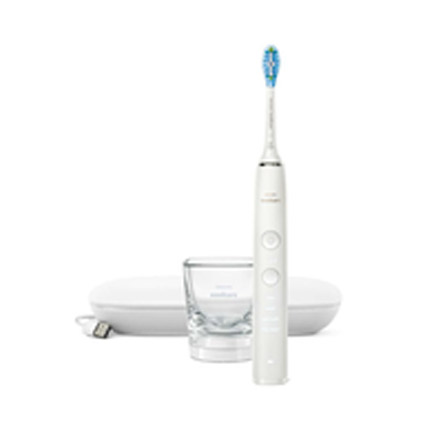 Philips Sonicare 9000 – White
$299.00
Removes up to 10x more plaque for a deep clean
Know you're getting the deepest possible clean with The C3 Premium Plaque Control brush head. The soft, flexible bristles are designed to curve around the contours of your teeth, giving you 4x more surface contact** and up to 10x more plaque removal than a manual brush from hard-to-reach spots.
Hard on plaque, gentle on your gums
The C3 Premium Plaque Control brush head is designed to give you your deepest clean yet. Soft flexible sides and bristles perfectly curve around the contours of your teeth, giving you 4x more surface contact and helping target hard-to-reach spots*.
Start and keep up healthy habits
The DiamondClean 9000 gives you the guidance you need to improve and maintain healthy brushing habits in between dentist checkups. Built-in smart sensors let you know when you're using too much pressure, and by connecting your brushing experience to the Sonicare app, a personalized Progress Report helps you stay on track, to see how much you've improved over time.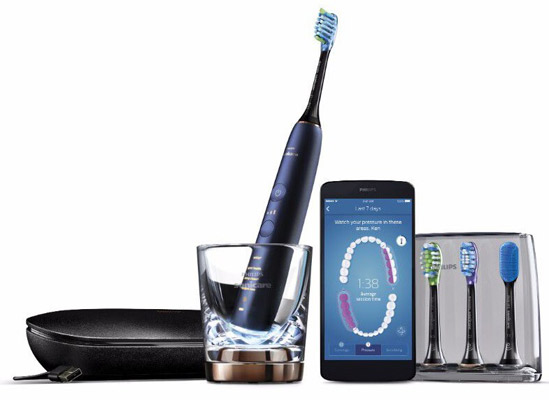 Philips Diamond Clean Smart – Lunar Blue
$399.00
The Philips Diamond Clean Smart is our best toothbrush, for complete care.
Four different high performance brush heads let you focus on all areas of your oral health, and the Smart Sensor technology gives you personalized feedback and coaching though the Philips App.
Proven to improve oral health Removes up to 10x more plaque than a manual brush, for a deep clean Protects gum health.
Personalized in-app feedback will help you to achieve perfect brushing.
Alerts tell you immediately if you if you are pressing too hard, or if you are using the brush in a way that is less than 100% optimal.
Sensors and app help you perfect your technique, and get a complete clean.
Premium brush heads give you exceptional oral health results.
5 modes and 3 intensities let you focus on each aspect of your oral health.
Smart brush heads automatically select optimal mode and intensity.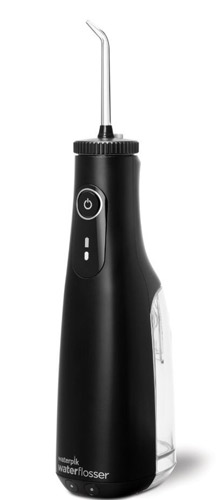 Waterpik Portable – Black
$149.00
Find it hard to floss? Want to reduce the likelihood of food trapping that can cause caries in between your teeth?
Waterpik have the answer with the water flosser, which is easy to hold and use.
Fill it with water, or mouth rinse, and use it to reach back to those back teeth, and help improve your oral health – much better than brushing alone can.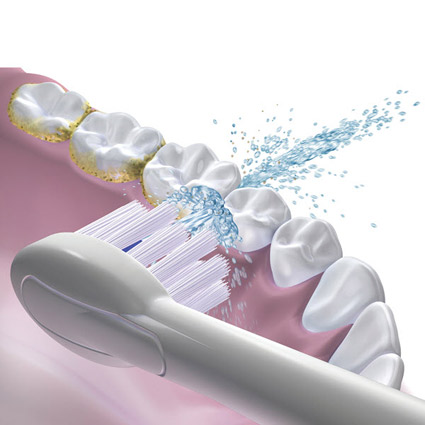 Waterpick Sonic-Fusion
$269.00
Yes – it's the World's First "Flossing Toothbrush"
The Waterpik Sonic-Fusion flossing toothbrush combines an advanced power sonic electric toothbrush with the effectiveness of the Waterpik Water Flosser.
It's compact with a small footprint on your bathroom cabinet. And its so convenient with an all-in-one brushing and flossing solution.
Sonic-Fusion(r) is the simple, no hassle oral care solution – at the push of a button switch from sonic brushing, to water flossing, to both.
Flossing technology is built into the patented brush head – allowing you to use one device for both brushing and flossing.
Sonic-Fusion(r) is up to 2X as effective as traditional brushing and flossing for reducing plaque and improving gum health.

Electric Toothbrushes Brentford Cosmetic Dental | 03 7023 0066