Dr Adam Mattsson (Dentist)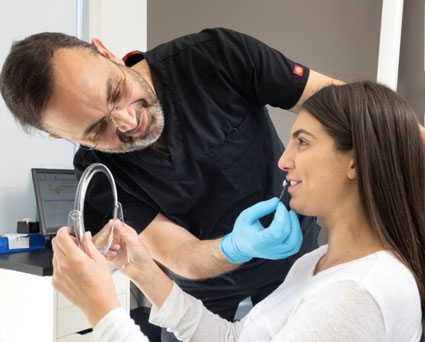 Before becoming a dentist, Dr Adam had aspirations to become a musician. "My older sister was a paediatric dentist, and I loved what she was doing. I had applied to the Conservatory of Music, and I didn't do too well in my audition, so dentistry it was!"
Dental Education and Training
To prepare for his dental career, Dr Adam earned a Bachelor of Dentistry in 1998 and joined the ADC in 2008. He stays abreast of the latest in the field by taking continuing education courses.
He has undertaken the following:
The gIDE 1 Year Master Implantology course in Los Angeles, USA
Trinon Implant Course under the guidance of a German Implantology Specialist
Training in Implant Prosthodontics with internationally renowned Dr Daniel Buser in Switzerland
Dr Adam also has performed over 3000 root canal treatments in his career. "They are challenging for some dentists, and I love doing them."
Helping to Transform Patients' Lives
Dr Adam finds it highly fulfilling to see the transformations in his patients' smiles and lives. He enjoys the challenge when people come with a problem that other dentists have not been able to solve. After 12 years of private practice in Maidstone near Highpoint, Maribyrnong, he has now relocated his successful style of dentistry to the Eastern Suburbs of Melbourne.
"It's gratifying to see how they change when they've been listened to, and their issues are solved."
Outside the Practice
In his spare time outside of Brentford Cosmetic Dental, Dr Adam enjoys spending time with his family and travelling.
Contact us today to schedule an appointment with Dr Adam!

Dr Adam Mattsson (Dentist) | 03 7023 0066